Well, another quick vacation has come and gone. This time we dropped by Pigeon Forge, Tennessee for a few days. There is plenty to do in the area, and since we only had about three days to spend there we only got to hit the highlights.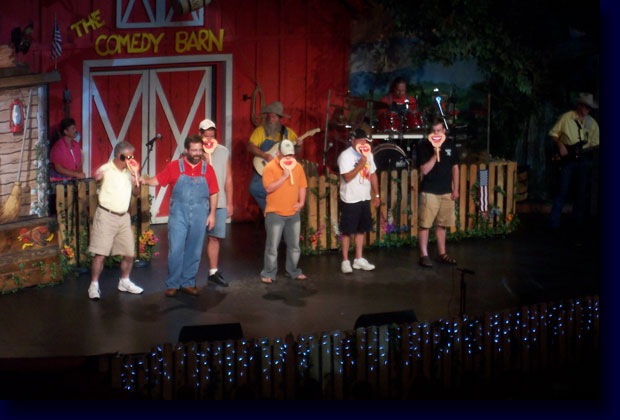 This is "The Comedy Barn" right in downtown Pigeon Forge. If you find yourself in Pigeon Forge, this is a must-see show. Very, very funny! On Saturday, June 3, we went to see the show, and were right up front! Ryan even got to help Farmer Clem with a magic trick! (Be brave! Take a peek at the man-eatin' chicken just outside the theater!)
We also went to Dollywood for two days where the kids had a great time riding the rides. Dollywood was packed with people on Sunday, and a mid-afternoon rain storm cut our day short. But Monday's time there was more enjoyable, since it was less crowded and the weather was nice.
On Sunday night we went to Dolly Parton's Dixie Stampede. Very entertaining show. Great meal and exciting to watch. The pre-show in the Carriage Room was almost as good as the main program. The only complaint is how much $$$ it costs for a family of four. I'm glad we did it, because it was very memorable, but I don't think I could afford to go again.
We also went to Ripley's Aquarium in Gatlinburg on Monday, and visited some of the shops up and down the main street in Gatlinburg.
We also visited some of the smaller attractions along the Parkway in Pigeon Forge and Gatlinburg. Man, some of these places are expensive and are really not worth the $$$ for a 15-minute ride.
I will be posting a few pictures later.
–Jason