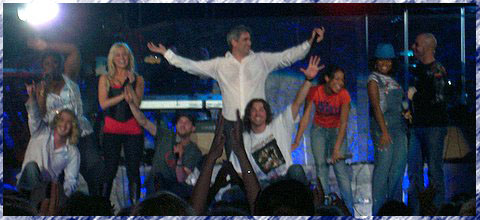 Hey everyone! The American Idol Season 5 tour came to Pittsburgh on July 27 at the Mellon Arena. The concert was excellent. I've been following Idol since season one and have been to most of the tour concerts, so I'm getting pretty good at judging the concerts.
This season's group has a lot of variety. You want country? They got country. You want rock? They got rock. A little bit of everything.
Mandisa started things off for the Idols. I was a little surprised she headed out first, as usually the Idols come out in the order they were voted off, from tenth to first. But Mandisa brought good energy and was definitely a good choice to open up. I liked how she dedicated "If I Was Your Woman" to season two winner Ruben Studdard. Cute.
So, toward the end of Mandisa's set, who comes popping out other than Ace himself! So, Ace sings a song with Mandisa, and then dives right into his George Michael impression with "Father Figure." This is probably the type of music he should be singing, as he does a decent job with it. I'm not saying I totally like it, but it's good Ace music, if that makes any sense.
Lisa comes out when Ace is done with his set and sings "Signed, Sealed, Delivered (I'm Yours)." I must admit I didn't care much for Lisa during the season. I think Melissa McGhee would have made a better fit in the top 10. But Lisa did surprise me by sitting down at the piano and singing a couple of songs with no other accompaniment. Nice job.
Paris struts out on stage looking like a cross between a 1980s Janet Jackson (anybody remember "Control?") and Beyoncé. I always liked it on Idol when Paris could sing songs that were in her element. Her audition was really really good, and I liked her duet with Al Jarreau during the finale, but this butt-shakin' crap ain't for her. She looks like she's trying too hard. It just doesn't come natural.
Bucky rocks out a bit with "Superstition" and does a decent job. He got a little confused early in the song and got off-beat with the band (good thing that didn't happen during the show!) but recovered nicely and ably sang the tune. That song is one of the best on the American Idol Season 5 CD. Then, of course as is mandatory with every Idol concert, "Drift Away" was sung. At this point I should say that thankfully, Bucky was the one singing it, and not that dreadful Corey Clark guy.
Kellie joined Bucky in an awkward, if cute chorus of "You're the One That I Want" from Grease. I say awkward because, try as he might, Bucky is not a vocal gymnast. All the "Whoo, whoo, whoo's" were on the down beat. Oh well. I think I'm getting picky. Pickler has a very strong voice, and sounded good on her Idol CD song "Walkin' After Midnight" and "I'm the Only One."
I have to say at this point that this is where "The Show Really Begins" because next to perform is Chris who brought the house down with his songs. I can't immediately recall what his first song was, but then again I didn't hear much of it due to the insane screaming coming from all directions. This man is adored just as much as Taylor, if not more so. The flash bulbs were poppin' from that point on. I really liked Chris' "Wanted Dead or Alive" which I think is better than the original. The crowd (predictably) went crazy as Chris replaced "drive all night/just to get back home" with "drive all night/just to get to Pittsburgh!"
As has been the pattern throughout, as Chris winds down his mini-set, Elliott saunters out to join him and they sing "Savin' Me" which was pretty good. Interesting combination of those two voices. Elliott is such a soulful singer, and Chris is so set for rock. But the two sound good together. My favorite Elliott song is "Moody's Mood for Love" which he sang that night. Elliott has complete control of his voice and sounds so good LIVE. Awesome! Best vocal performance of the tour.
The boys come back out to sing "Patience" and the girls come back out to sing "Man! I Feel Like a Woman" which was nice and all, but by this time the crowd was ready for "The Man" to come out and blow us away with his funky-white-boy dance moves and searing harmonica. It was time.
Taylor came out through the crowd from behind us. He marched up the side aisles jammin' to "Jailhouse Rock" and the crowd went nuts. You can just tell by watching him that he loves what he is doing. Taylor deserved to win this, hands down. Yes, Chris has quite a following, but the right person won, no doubt. When Taylor sang "Living for the CIty" we got a full dose of crazy dance moves. Awesome! I also quite like this year's "Coronation song" "Do I Make You Proud." Yes, it's corny. But we wouldn't want it any other way. The song tells the story of the journey of the singer. Taylor has always stood out from the crowd, and he is living the American dream, so the song is perfect for him. Corny? Absolutely. But perfect.
The Idols definitely knew how to play to the Pittsburgh crowd, and that was most evident during the encore when Chris started belting out "We Are the Champions." I've been to Pittsburgh a few times in the past couple of months, and the sheer number of Steelers jerseys and T-shirts show just how proud this town is that the Steelers are Super Bowl champions. Ace joined in the singing of "We Are the Champions" sporting a Super Bowl T-shirt and waving a "Terrible Towel." The Mellon Arena went nuts!
Overall, this group of Idols is impressive. There are a few misses here and there, but they are all vocally solid. I know that at least four of the top ten have recording contracts. Elliott will certainly be snatched up by somebody, surely. They have all been given their launching pad. Now it's up to them to try to turn this 15 minutes of fame into a long-lasting career.
I will be posting concert pictures shortly. I'm thinking about switching all my pictures to flickr and organizing them that way. After I get organized, I'll post my pics.
Other Articles
Saturday, July 8, 2006, 11:58am